Manufacturing
Communication challenges
● During the R&D stage for new products, the executive in the Huizhou head office, the engineers in Shenzhen, and the head of the factory in Vietnam needed to meet frequently. Due to expensive travel costs and inefficient communication , new product releases ususally took a long cycle, which in turn affected the company's competitiveness. The head of sales on the front-line was only able to return to the head office once a month for debriefing, and it took a long time for the company to receive comprehensive feedback from the market. After receiving market feedback, more R&D and manufacturing resources needed to be allocated to refine the products. It took a long time to respond to market feedback.
● Branch offices were not able to participate in regular meetings in the head office, and could only follow instructions passively. They lacked a sense of participation and belonging with the company's operations. The situation on the front-line could only be reported by a few branch managers, resulting in information asymmetries and affecting the efficacy of branch management.
● After a new product was released, an instructor had to fly out to each branch to conduct training. The training efficiency was low and the costs were high.
After implementation of Yealink video conferencing solution
● Engineers and factory supervisors no longer needed to fly back to Huizhou, and could contact the executives in Huizhou face-to-face within their regions. Through full high-definition video, high-definition document sharing and the 18X optical zoom cameras, the blueprints, sample models (color and material details), and the functions of the new products, could be explained and discussed in detail as if the object was actually in front of you. It greatly increased communication efficiency, which in turn shortened the release cycle.
● Foreign sales could use PC, tablets, or smartphones to join the head office video conferencing at anytime and anywhere, and the head office could receive market feedback immediately. The head office could convene a meeting with the R&D department and the factory at the same time and directly coordinate resources to modify products to respond to market feedback immediately.
● Branches could use video conferencing to join the weekly regular meetings at the Huizhou head office, and participate more in the company's decision-making process. The smoother information exchange made management more efficient and the company more cohesive.
● Instructors at the Huizhou head office could run training sessions with multiple front-line branches simultaneously. Not only could the instructor's expressions be seen clearly during training, high-quality images of drawings and enlarged new product details could be shared. The entire training process can be recorded locally and so that it could be watched by others who did not participate in the training session.
Upstream and downstream

Communication challenges
● Opportunities for face-to-face contact with clients are limited, making it difficult to understand client intentions and requirements. Phone, email, QQ, WeChat, and other methods of communication had poor results, and frequently lead to information asymmetries, reduced project acceptance rates, and even to rolling back of projects, which is a huge waste of work and time.
● Greenland Holdings and other major clients requested we send a specialist from Shanghai to Hangzhou to participate in regular weekly meetings, which greatly increased travel costs.
After implementation of Yealink video conferencing solution
● Zhidu Culture was saved from worrying about the lack of effective face-to-face communication with their clients. Thanks to the convenience of video conferencing, Zhidu Culture could communicate with the client on the project, the details of the project, or key contents at any time instead of waiting to confirm with the client until the entire plan has been completed. This effectively avoided progressing in the wrong direction, and improved project acceptance rates.
● Video conferencing not only enabled Zhidu Culture to achieve face-to-face communication, but also to share high definition plans, design drawings, and video clips to make it more convenient to discuss details, thus effectively avoiding miscommunication and unnecessary work.
● Yealink video conferencing is seamlessly compatible with industry mainstream video conferencing solutions . Hence, Zhidu Culture no longer needed to frequently send people to Hangzhou to participate in the Greenland Holding's regular weekly meetings; instead, they can  use Yealink's video conferencing solution to access Greenland Holding's Polytone video conferencing system for regular meetings. This saves both a lot of travel costs and precious time that could be spent on the projects.
Construction
Communication challenges
● Due to the onerousness and complexity of construction projects, North China Construction Group requested the on-site construction supervisor and the engineers to report to the head office on the project progress every week.
● When an unexpected situation arises during the project, it is very difficult to report back clearly to the specialists at the head office immediately, and usually, specialists have to be brought in on-site to assess and solve the problems.
● Construction site conditions were austere, with no wired networks or landlines, and lacked the necessary conditions required for video conferencing.
After implementation of Yealink video conferencing solution
● Construction project supervisor could have regular weekly meetings with the head office at the construction site via video conferencing, and present the project schedules, construction drawings, and construction progress to the head office. avoiding travel fatigue as well as saving a large amount of travel expenses.
● If an emergency like the  material quality happens, the details could be enlarged using Yealink's 18X zoom high-definition camera, and specialists could analyze and propose solutions remotely, and go on-site for the further actions if necessary. In this way, a large amount of time is saved, and project progress is accelerated.
● Yealink video conferencing has very flexible network adaptability and does not require a public IP address. It doesn't even require a wired network. North China Construction could use 4G mobile internet at the construction site to have a smooth video conference with the head office.
Finance
Communication challenges
● The futures business is highly professional and concerns large sums of money, so the head office required confirming the status of the business with the sales department at least once a week. In the past, phone calls were used to implement this communication. Although it ensured frequent communication, only voice could be heard during the meetings, and it was very difficult to communicate and talk about complicated futures transactions.
● When China officially issues new related economic policies, the staff need to be retrained at once. However, Western Securities has 29 sales departments, and training from one department to another greatly restricts efficiency and effect
● Western Securities hoped to provide remote video service to further improve customer experience for VIP clients
After implementation of Yealink video conferencing solution
● While conducting business discussions, Western Securities was able to share high-definition business documents and data models, so that the discussions during each meeting were more efficient
● Trainers at the head office could now simultaneously run training sessions with multiple branch offices, and policy documents could then be presented in high-definition to the learners. At the same time, the trainer could explain the key points and the difficult matters clearly on a whiteboard using Yealink's 18X zoom camera. The training sessions could be recorded for repeated use
● Western Futures' VIP clients could enjoy the premium experience of using Yealink PC software or mobile app to video call the sales specialists for remote management or to formulate customized financial solutions.
Government Institutions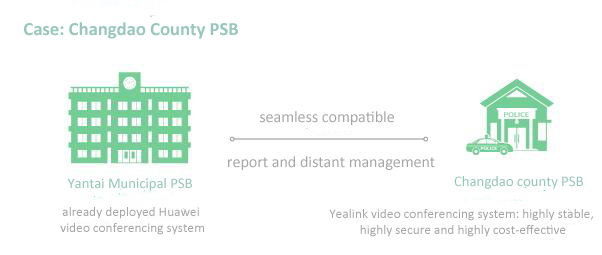 Communication challenges
● The Changdao County Public Security Bureau reports regularly to the Yantai Municipal Public Security Bureau, but the frequent travel increases the "three public expenditures" (travel, food and entertainment, public vehicles), making it inconsistent with the aim for an honest corruption-free government.
● When an incident arises, and the city bureau's guidance or direction is required, this could be only done via a phone call or if the municipal PSB sends someone over, thus leading to low administrative efficiency.
● Public Security agencies involve state secrets, and have high requirements for communication security.
● Funding for the county Public Security Bureau is limited and was not enough to afford expensive video conferencing solutions.
After implementation of Yealink video conferencing solution
● Face-to-face communication was implemented. Be it from Changdao County's reporting to Yantai City, or the city;s giving guidance to the county, communication could be implemented locally, saving travel expenses and police resources.
● When an emergency or intractable case occurs, the city bureau could give remote guidance at once and improve the success rate for case investigation, and improve the public's sense of security.
● The core technology and equipment in the Yealink video conferencing solution is developed and produced in-house. The data stream is processed through the hardware and is encrypted in multiple layers to ensure the security of state secrets.
● Advanced functions of Yealink's video conferencing are all free, saving more than 50% in costs for Changdao County bureau. It is also seamlessly compatible with the city bureau's Huawei conferencing system, and ensures that the city bureau doesn't have to spend more than it already has.
Chain Stores
Communication challenges
●  Houcaller has nearly 20 restaurants in Xiamen, and regional managers have to gather all the branch managers for weekly sales and stock inventories every week. There was no way to see data and drawings via telephone calls and the communication efficiency was low. Gathering all the branch managers would involve substantial organizational costs.
●  Promotional activity during holidays required  cooperation between many branches. Success of  the activities depends on how quickly the activity plans are sent to the stores, and if the branches give feedback on the activity on time,  adjustments can be made quickly.
After implementation of Yealink video conferencing solution
●  Houcaller deployed the video conferencing hardware at the main restaurant and flagship branches, and used Yealink PC software and the mobile app in other smaller branches. By controlling costs and allowing multiple branches to join video conferencing simultaneously to share information, the regional managers were able to clearly understand the real time sales situation of the restaurants and make preparations quickly.
●  Activity plan discussion efficiency was raised: discussions about the plan could be made simultaneously between multiple branches; Good results: not only could they see one another, files and documents were also visible, and the layout for the activities could be shown to the head restaurant. The branches were also able to report the sales information for the promotional set meal for every day back to the head restaurant, and allowed it to make adjustments to the preparation and change the combo meals that weren't selling as well.
Education
Yealink Video Conferencing System Brings Innovation to Education
Leading general education school turns to Yealink to improve interregional communications and reduce cost
Basic Information
Customer: RosAtom School
School Type: Secondary education
Brief project description: The network of RosAtom general education schools is united by a single system of video-conference communication to provide a modern and innovative educational process.
Website: http://rosatomschool.ru (Russian).
Country: Russia.
Cities: Zarechny (Penza Oblast), Sarov (Nizhny Novgorod Oblast), Zelenogorsk (Krasnoyarsk Krai), Tryokhgorny (Chelyabinsk Oblast). All of these cities are centers of the Russian nuclear industry.
Challenge
RosAtom School has a large regional footprint with a total of 246 schools in Russia. With a network of communications as extensive as this, the transfer of children for various training events takes a lot of time and is rather costly. In order to exchange experience, hold scientific conferences, and learning Competitions, RosAtom School knew it needed a video conferencing system to provide a modern and innovative educational process. The introduction of the Yealink video-conferencing system allowed increasing the number of interregional group-based events, and reducing the cost of conducting such events.
Solution
1) Easy to use. To simplify the calls, we used the SIP protocol. Now each region has a simple number for dialing, and thanks for SIP telephony,the regions which with no video-conferencing system can also participate in the conference
2) Firewall traversal. Traffic for the education of underage students is subject to strict filtering, thanks to the automatic NAT traversal, the firewall in the Yealink video-conferencing systems allowed to easily avoid these problems.
3) Low speed communication channels. The pre-project survey stage revealed that in some regions the speed of communication channels is was not stable and could drop to 512 kbit/s. During the testing stage, video-conferencing was conducted at a connection speed of 512 kbit/s – 1 Mbit/s. The quality of the transmitted image was preserved at a resolution of 720 p, which was completely satisfactory for the customer.
Benefit
Modern design, good video-conferencing quality on unstable communication channels. The Full HD camera with 12x optical zoom. The cost.
Quote
"Thanks to Yealink products we were able to bring the educational system to a whole new level. Our teachers can exchange experience, results of experiments in the field of education, make group discussion with a variety of problems, and share "Best practice" cases in online mode. With the help of the Yealink desktop, managed to avoid disrupting the training process of teachers and children who are outside the school due to illness. Thus, we managed to improve the quality of the educational process. Yealink products enabled us to conduct "face-to-face" communication with native speakers, organize internal interregional artistic and scientific olympiads, and collective conferences with no cost for transferring students and accompanying teachers, which significantly reduced our expenses. Children develop communication skills, they begin to make friends and communicate "regions" at an early age. Local history started developing due to the desire to tell about one's home and to understand the difference with respect to other regions. We are beginning to restructure the methodological plan in order to maximize the use of the Yealink video-conferencing system in the educational process."
Svetlana Adamovna Burlakova,
Deputy Director for Teaching and Education, MOAU 
Gymnasium 216 DIDAKT, Zarechny.
Integrator's opinion
Yealink products are ideally suited to the RosAtom schools' project and fully meet the customer's requirements. The features of easy to install and adjust helped to implement the project in very short time. RosAtom intends to expand the number of schools participating in the project, as well as establish centers for professional development for teachers on the basis of the existing ones. With appropriate customer extensions, we will be able to implement Yealink meeting server for conducting webinars and to supply additional Yealink equipment to the new schools of the project.
This system will be able to give rise to a new education system and scale not only within the RosAtom Corporation, but also in other secondary education institutions.
WOULD YOU LIKE TO LEARN MORE?
PLEASE CALL 1-800-749-3160 AND TALK TO YOUR DEDICATED ACCOUNT REPRESENTATIVE TODAY!